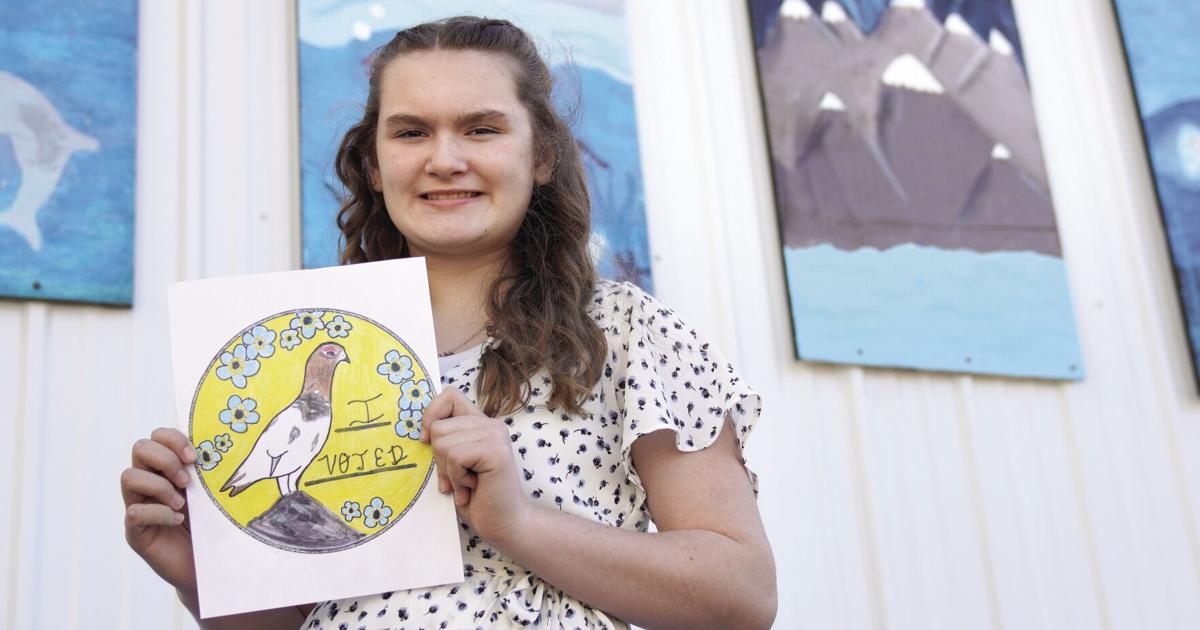 Voters Choose Nall's Election Sticker Design | Education
Nall's design, featuring the state bird (willow ptarmigan) and state flower (the forget-me-not) won over 900 votes in the Youth Vote Sticker Art Contest statewide from the Alaska Division of Elections. Nall's was one of four finalists chosen for the South East region, alongside designs by fifth-year Houghtaling student Copeland Loeffler and two students from Juneau.
In the end, after voting closed at midnight Friday, Nall's sticker came out on top. Online information from the Elections Division reports that Nall's design received 61% of the total votes cast. To win the election, Nall needed only 760 of the votes cast. When voting ended Friday at midnight, she had a final tally of 919.
The contest allowed voters and students to learn more about the state's new Ranked Choice Voting system to be rolled out this year, allowing participants to vote on a recreated ballot and track results, a system mimicking how it will actually work at election time.
Nall learned about the competition from her teacher, Lucy Ortiz, the student told the Daily News during a lunchtime interview at Houghtaling.
The sticker features a willow ptarmigan on a yellow background — chosen for the yellow of the star on the state flag, Nall noted — surrounded by forget-me-not blue.
"It was my first draft and it may have taken… a few days," she said.
She didn't expect to be selected as the winner – this is Nall's first time in an art competition, although she "takes every chance" she has to create works in her art class .
"I thought it was just going to be fun and I could get on with it, but I ended up in the top four, so I was pretty excited about it and I was also really nervous about it," said Nall said.
The contest was originally scheduled to end on Wednesday, but the Elections Division extended the deadline for voting until Friday midnight.
Elections Division public relations officer Tiffany Montemayor wrote to The Daily News on Tuesday afternoon that the extension was an effort to attract more contest entrants following a "significant reduction in promotion" of the contest due to of the need for a special primary election after the death of Congressman Don Young in March.
"Voter outreach to ensure voters are aware and prepared for the special primary election is one of the most important parts of producing these elections," Montemayor wrote. "The special primary election will be the first to use our new electoral system and the first-ever statewide mail-in election. Given these unexpected circumstances and communication challenges in such a short time, it was crucial to shift all of our communications efforts to focus on the special primary election."
"I was pretty disappointed," Nall said of the extension, which resulted in a two-day delay to find out if she was the official winner, even though she was a few hundred votes ahead of the other finalists. at this moment.
Chloe Hall, Nall's mother-in-law, commented on what an educational experience it was for everyone involved.
"It's been really fun because a lot of people have been interested in the new voting process that Alaska is going to implement, and it was really fun to watch Keely go through the different stages of the process," Hall said. "And it was really fun teaching him about it and giving him real-life experiences of how the electoral system works. And I was explaining that to him, so it was a really cool way to get him involved in politics a little bit. and the voting system and understanding how it works, which I think is great."
Year five student Copeland Loeffler, also in Lucy Ortiz's class at Houghtaling, was alongside Nall in the top four students selected as finalists for the South East region.
He used colored pencils to create his drawing; a circle edged with the American flag design — "which represented part of the American flag because, well, Alaska is in America," Loeffler said.
The design is further divided into two semi-circles: one decorated with the Alaska flag design and the other with the words "I voted".
Loeffler said he came up with the idea in 10 minutes and submitted his first draft to the competition.
He was inspired by another art student in Alaska state history: Benny Benson, a 14-year-old born in Chignik, was attending Seward School when, in 1927, he enrolled his design for the territorial flag of Alaska in a contest for the school. older children. Benson's design was selected and is the same as seen on the flag today.
When asked where he heard about Benson, Loeffler said he thought music teacher Jillian Pollock referenced Benson's story because of the song "Eight Stars of Gold."
Loeffler was surprised to learn that he had been a finalist.
"I couldn't believe myself at first," he said. "Because, well, I didn't really get anything like that, in the top four."
Like Nall, the competition is also the first time Loeffler has submitted his art to a competition. He said he sometimes tries to create "inventions" and that he tried to create a "webshooter" out of a cereal box, but the design fell short of the creation he wanted.