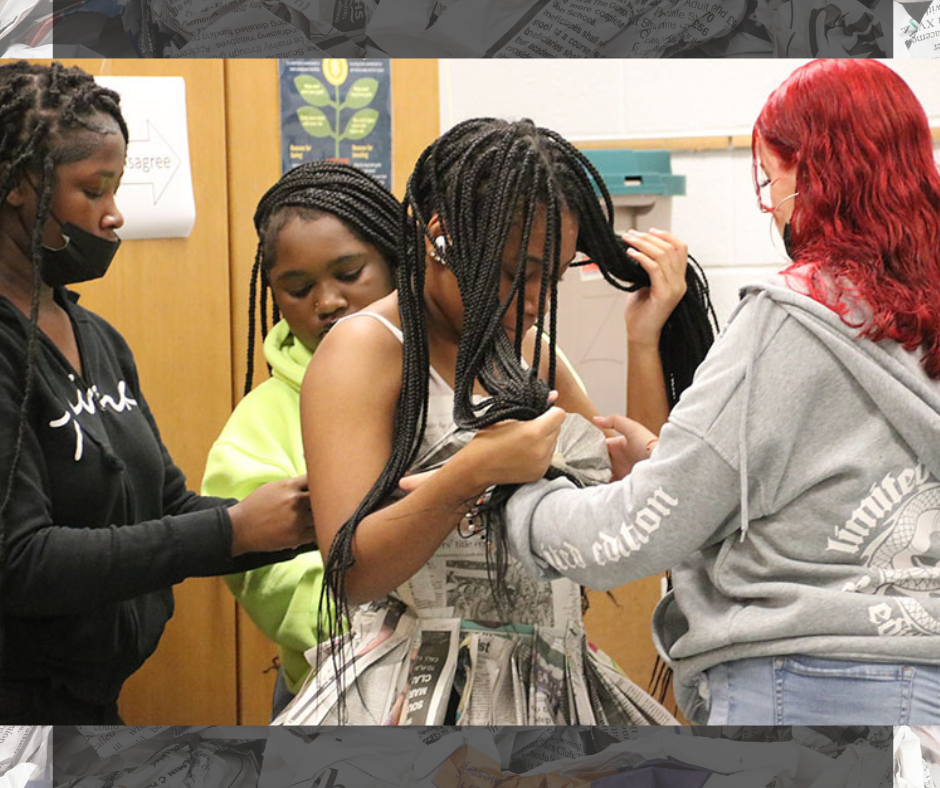 Stop the presses! Fashion Design Students at Thomas Stone High School Take Recycling to New Levels | details
Stop the presses! Fashion Design Students at Thomas Stone High School Take Recycling to New Levels
There's fast fashion and there's yesterday's news. Students in Thomas Stone High School's fashion design class embraced the two with a mission to create a garment and accessories using newspaper, tape, teamwork and ingenuity.
Hollis Hay, who teaches fashion design, financial literacy and architecture and interior design at Thomas Stone, said the mission serves as an icebreaker and team builder at the start of the school year. . "I start with newspaper dresses because sometimes you have to think outside the box," Hay said of the creative student collaboration. "What a fun way to get to know the kids in your class and build relationships," Principal Shanif Pearl said.
A fashion show recently took place in the locker-lined hallway outside Hay's classroom, with models walking a red carpet past the judges – judges for the morning show were Pearl, Assistant Principal Jasmine Bateman, Vice-Principal Curry Werkheiser and Resource Teacher Melissa Veneracion. Designs were rated on a scale of one to five focusing on originality of design, originality in journal use, craftsmanship, journal accessory, and overall appearance. Each of the two styling classes participated in a fashion show. On Monday, each class' show resulted in a tie between two teams.
make it work
Before the groups get to work, Hay explains how the newspaper can be folded, trellised, pleated, made into rosettes, fringes and other embellishments. Then, in teams of four or five, students worked to create a garment and accessories with gear emblazoned with signatures, sports scores, and comic strips.
Fashion Design is a fine arts credit in which students learn the principles and elements of fashion and the history of fashion. Hay, who was a family and consumer science major at college focused on textile and jewelry design, taught art and worked with students in a home and hospital program. before coming to Charles County Public Schools.
She said she was looking for assignments that would challenge students to analyze and use design principles while gaining hands-on experience working with materials to create a garment. It's just not a material that most would think of using. "That's why dresses aren't made of newspaper," sophomore Cole Bergling said.
"We found it very difficult," said Bergling's teammate Adali Hernandez, a freshman. "But once we started putting things together, we just did layers upon layers until it all came together."
Another lesson learned was that a dress wasn't going to come together overnight. "Patience. I learned patience," Kennady Hawkins, a sophomore, said.
Fashion forecast
Hawkins said she signed up for styling to try something different. "I want to explore different options and it sounded interesting," she said. Hawkins helped design a dress for her teammate Caitlyn Bromfield, a senior, to wear on the show.
Hay would like to start each term with some sort of challenge to spark student creativity and spin the wheels for future projects. The students are all for it, judging by the enthusiasm displayed at the fashion shows. "It's a reminder that student enthusiasm is what makes us all want to be teachers," Hay said.
Upcoming courses include designing with plastic bags, magazines and unconventional materials – think dry pasta or fake flowers. Students will delve into line drawing, embroidery, screen printing, bead weaving and macrame.
After Monday's fashion show, the students are ready to dive deeper and challenge themselves. "I thought it wasn't going to work," Bromfield said, looking at her dress and around the room at the other teams as they made last-minute changes to their journal designs. "But it works."
About the SCPC
Charles County Public Schools provides 27,000 K-12 students with an academically stimulating education. Located in Southern Maryland, Charles County Public Schools has 37 schools that provide a technologically advanced, progressive, and high-quality education that builds character, prepares for leadership, and prepares students for life, careers, and life. 'Higher Education.
The Charles County Public School System does not discriminate on the basis of race, color, religion, national origin, sex, sexual orientation, gender identity, age, or disability in its employment programs, activities or practices. For inquiries, please contact Kathy Kiessling, Title IX/ADA/Section 504 Coordinator (Students) or Nikial M. Majors, Title IX/ADA/Section 504 Coordinator (Employees/Adults), at Charles County Public Schools, Jesse L Starkey Administration Building, PO Box 2770, La Plata, MD 20646; 301-932-6610/301-870-3814. For special accommodations, call 301-934-7230 or TDD 1-800-735-2258 two weeks prior to the event.
CCPS provides equal and non-discriminatory access to school facilities in accordance with its Rules for the Use of Facilities to designated youth groups (including, but not limited to, Boy Scouts).