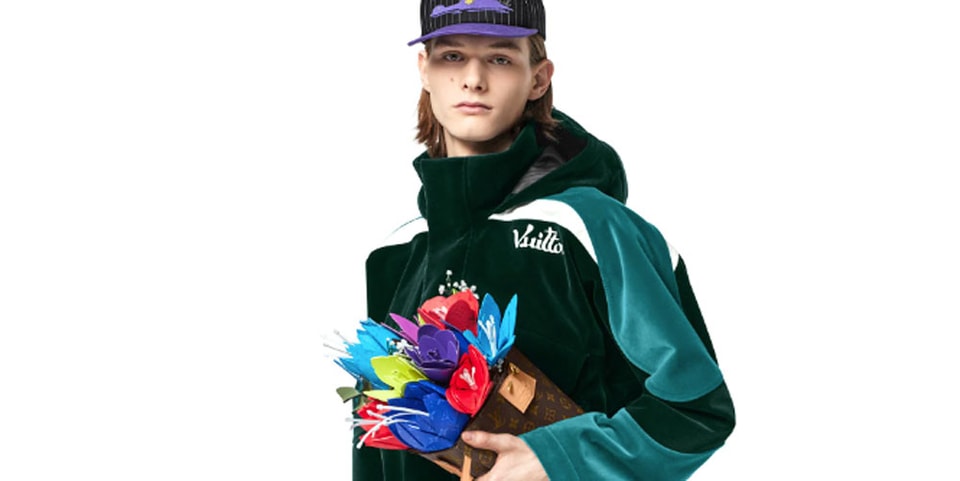 Louis Vuitton Virgil Abloh Bouquet of flowers
From dog-shaped leather shoulder bags to character-inspired keychains, the luxury accessories category is getting more and more abstract, yet fun. The latest offer from Louis Vuitton that promotes this conversation of high novelty is its bouquet of flowers.
Putting a luxe spin on florals at your local bodega, the piece from the French luxury house was first showcased at Virgil Abloh's Fall 2022 fashion show. Coming two months after his passing, the bouquet of flowers and accompanying spectacle further exemplified the late designer's expanded approach to design. Serving as a collector's item, the unique piece features multicolored leather and canvas flowers in shades of coral, royal purple, azure blue and more with LV's signature monogram detailing.
Channeling the silhouette of wrapped newspaper, the faux roses, baby's breath and tulips rest inside a single-handle carry bag. The piece is crafted from Louis Vuitton's classic brown monogram canvas with leather straps and distressed gold hardware. In addition, the bag includes a zippered pocket to facilitate the transport of daily essentials.
Check out the gallery above for a preview of the flower bouquet. Retailing for $12,200, visit Louis Vuitton's website for more information on the collectible.
In a similar vein, NOAH and Red Hot Chili Peppers are releasing the "Unlimited Love" tour tee.