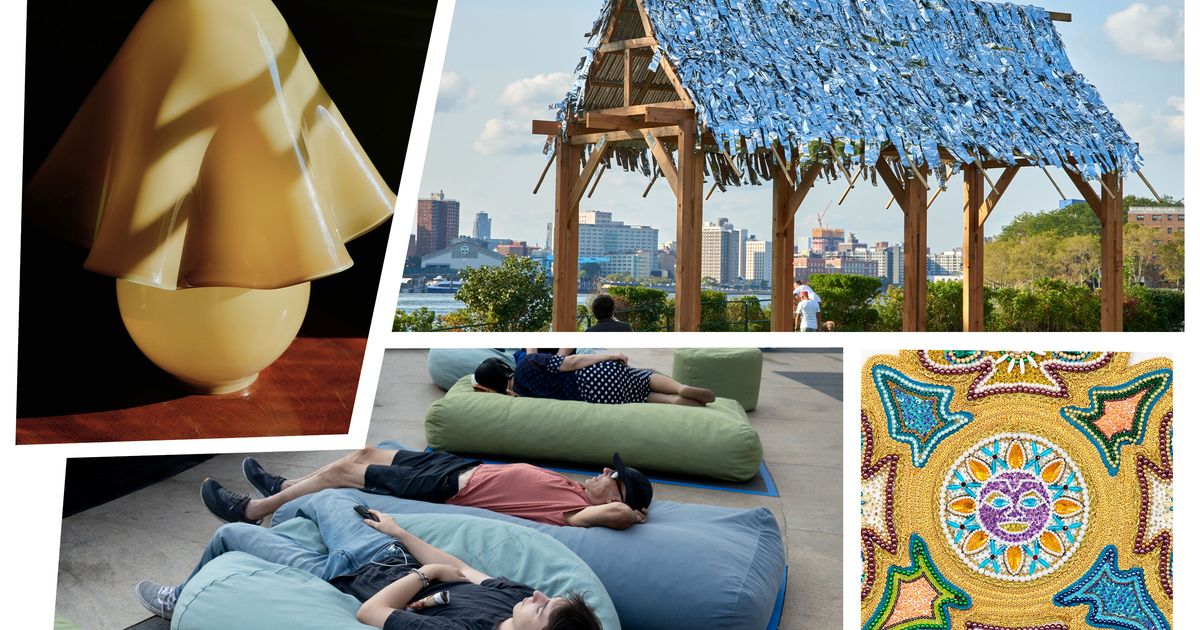 Glass Lighting, a tribute to Saint-Malo, and more
Pictured: William Jess Laird, Audrey Melton, Bryony Roberts, GBA
Objects, creators, news and events to know.
Artist Sophie Lou Jacobsen and lighting design studio In Common With have collaborated on a series of striking lamps that pay homage to shapes found in nature like mushrooms and flowers. They are all made in Fort Greene by the artisans of Keep, who used traditional glassmaking techniques like fazzoletto, which involves spinning molten glass to achieve the appearance of flowing fabric, and collapsing, which uses gravity to mold a shape. The result is a fresh take on the classic Murano mushroom lamp and tulip shades. Starting at $1,250, available at incommonwith.com.
For Cheyenne Concepcion's installation in "Sink or Swim: Climate Futures," a new exhibition at Socrates Sculpture Park that showcases artistic responses to climate change, she created a tribute to Saint-Malo, a former fishing village about 30 miles southeast of New Orleans. Concepcion was shocked when she learned of the community's history: Founded in the 1760s, it was the first permanent Asian American settlement in the United States. Filipino sailors who had escaped indentured servitude on Spanish ships formed the village, building houses on stilts above the bayou. The community remained there until a hurricane destroyed the village in 1915. Today some pilings are still visible, but the site is threatened by erosion and rising sea levels. Little documentation exists on the village, so Concepcion envisioned a type of building that early settlers could have built based on the bahay kubo, a traditional Filipino house – but instead of using the typical palm fronds on the roof, she built it covered with glittering silver the fringe. "I bring this place lost in our collective memory," says Concepcion. Until March 12, 2023.
Photo: Elisabeth Bernstein, courtesy of the artists and Sal on 94 Design. ©Robert Earl Paige. © Herbert Bayer
Chicago-based artist and designer Robert Earl Paige, 86, coined the term abstract to define the brightly colored abstract paintings, ceramics, collages, sculptures and textiles he made throughout his life. Some of them are on display in "Robert Earl Paige: Power to the People," a solo exhibition at Salon 94's Freeman Alley gallery. "There's something like 35 art movements, and I thought, How could I add to thisPaige told me during a guided tour of the exhibit, hosted by fashion designer Duro Olowu. "It had to be a new visual order, something I could bring to the table which was a combination of all the movements I love." These references include Senegalese fabric patterns, Bauhaus fonts, Mondrian paintings, and the radical black political movements of the 1960s. "You hear all the time that beauty is in the eye of the beholder, but if you're not trained to see, then you're going to miss things." Until October 29.
Architect Bryony Roberts designs public installations that take sensory considerations into account – from a curbside nap nook in Hudson Square to a climbing rope sculpture for Exhibit Columbus, an Indiana architecture festival. His latest piece was to fill the public plaza at Lincoln Center with dozens of large throw pillows, meant to be soothing and relaxing, for Big Umbrella, a festival for children with autism and other forms of neurodivergence. While the installation only lasted from September 16 to 18, Soft represented a heartwarming sensibility that is sadly lacking in the public space.
During Mardi Gras, people belonging to the Black Masking Indian tribes wear ceremonial costumes adorned with beads and feathers to honor their descendants who escaped slavery. Charles DuVernay, a member of the Monogram Hunters tribe who has sewn these costumes since he was a child, riffed on the clothes for a new series of beaded wall hangings made in collaboration with Guilty By Association, an arts organization founded by former New Deputy Museum Director Karen Wong and artist Derek Wiggins. "Our desire is to prolong the artistic practice by giving a second life to our work and to make this heritage contemporary", specifies DuVernay. From $1,900, available at gba.family.