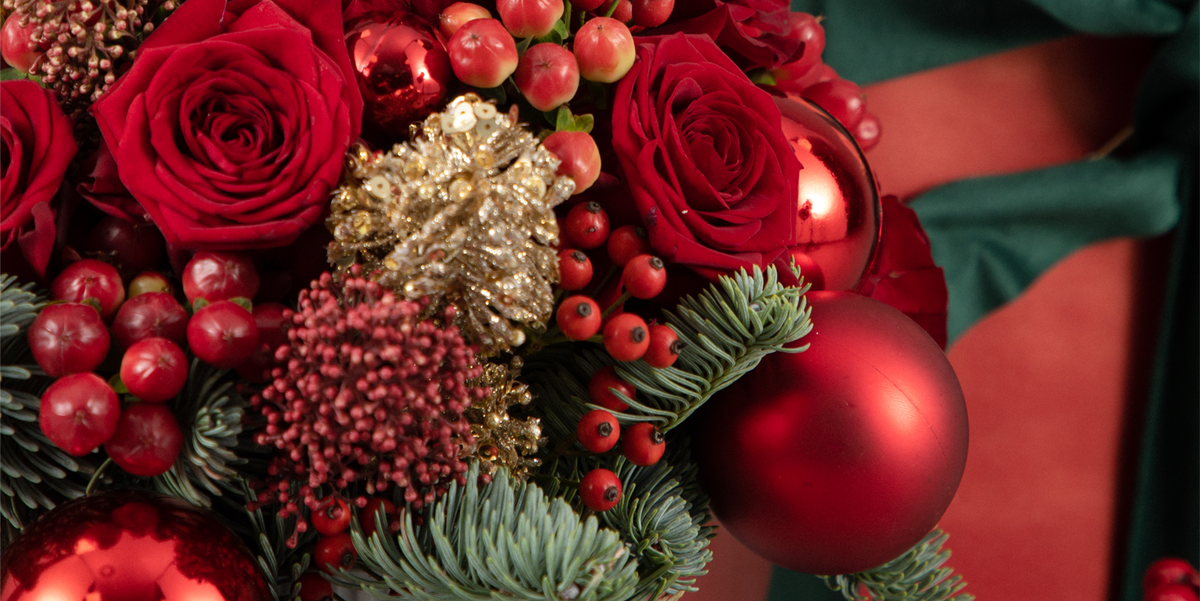 flower tips from the experts
With Christmas just around the corner, it's time to start decorating your home to match the festive mood.
Once you have your Christmas tree sorted and fairy lights on, you can start thinking about how you can decorate other parts of your home to really add a festive touch. Enter: Christmas flowers. Whether you are looking to make a tablescape or create beautiful displays in vases, there are plenty of ways to add flowers to your home to create a stunning winter-ready look.
If you're hoping to add flowers to your home this Christmas, but don't know where to start, we spoke to two expert florists to give you a hand. Halla Al Saad and Diana Bilenko, co-founders of Grace Floral London, create bespoke floral arrangements for all kinds of amazing events across the UK. By emphasizing respect for the environment and drawing inspiration from the latest trends in art and fashionHere they share their top tips for Christmas flower arranging…
Choose your flowers

No matter what type of display you are creating, the first thing to do is decide which flowers you wish to include in your arrangement. "Hydrangeas will always be a classic, and you can mix and match them with a whole host of other flowers, like peonies, tulips, pine cones and ferns," says Halla. "You can also incorporate pampas, which we've seen rise in popularity over the past year," she suggests. "If you do this, you can opt for neutral tones or fun colors like bright pinks and purples, depending on the overall look you're going for."
Choose your colors
The consensus between Halla and Diana is that the colors you choose for your flowers should complement the color theme you use throughout your home. And, from what they've seen with their customers, dark colors are set to become a major trend this Christmas. "Expect to see lots of darker jewel tones, like purples, navy, and deep raspberry," says Halla.
When it comes to metallic shades, the shine is here to stay! "Mix any colors you want with golds or silvers," advises Diana. "It will add festive magic to any floral arrangement."
Create a tablescape
When it comes to Christmas flowers, most of our minds will automatically conjure up images of beautiful tablescapes. And the tabelscape trend should stay for Christmas 2022.
For Halla and Diana, it's about mixing other textures and shapes among your flowers. "Add fabric, like velvet, to take your table decor to the next level," advises Halla. "This can be placing ribbons around napkins and cutlery, or using velor napkins. Adding texture will really make your flowers pop.
Diana also suggests mixing balls among your table flowers, because they are not only for the Christmas tree. "Use a combination of balls and foliage to create a beautiful arrangement," she suggests. "Once you've done that, you can add candles to create a leveling on your table and create a warm and comfortable atmosphere.
Plug into other parts of the house
Needless to say, adding flowers to the home doesn't have to be limited to the Christmas table or even bouquets in vases. "You can use flowers everywhere; from creating a fireplace design to adding a small floral display on a coffee table," says Halla. "You can even do your bedroom Feel cozy and festive by adding touches like foliage to your bedside tables.
And, of course, it wouldn't be Christmas without a crown. "Gold will be a popular trend for outer crowns this year, for a classic and elegant look," says Diana.
Halla adds that your outdoor decor should match the design you've chosen for your home's interior. "Keep the exterior and interior aligned, have a theme, stick to it, and replicate it," she advises. "If you're going for fun and celebration, include classic colors and big ribbons in your outdoor decor. Or, if you're going for something classic, pair metals inside and out.
Set your mood
Your flowers should mimic the mood you hope to create for the holiday season. After a few difficult years, a consensus among experts whether we can expect this Christmas be filled with family reunions and joy. And, for the florists at Grace Floral, that translates to fun blooms with lots of bright, metallic colors to create a joyful moment. "Think big, elaborate but modern arrangements," says Halla. "In your arrangements, add gold or silver glitter and opt for bright colors; like blue, purple, orange and red. It will really add a like a partya fun atmosphere in your home.