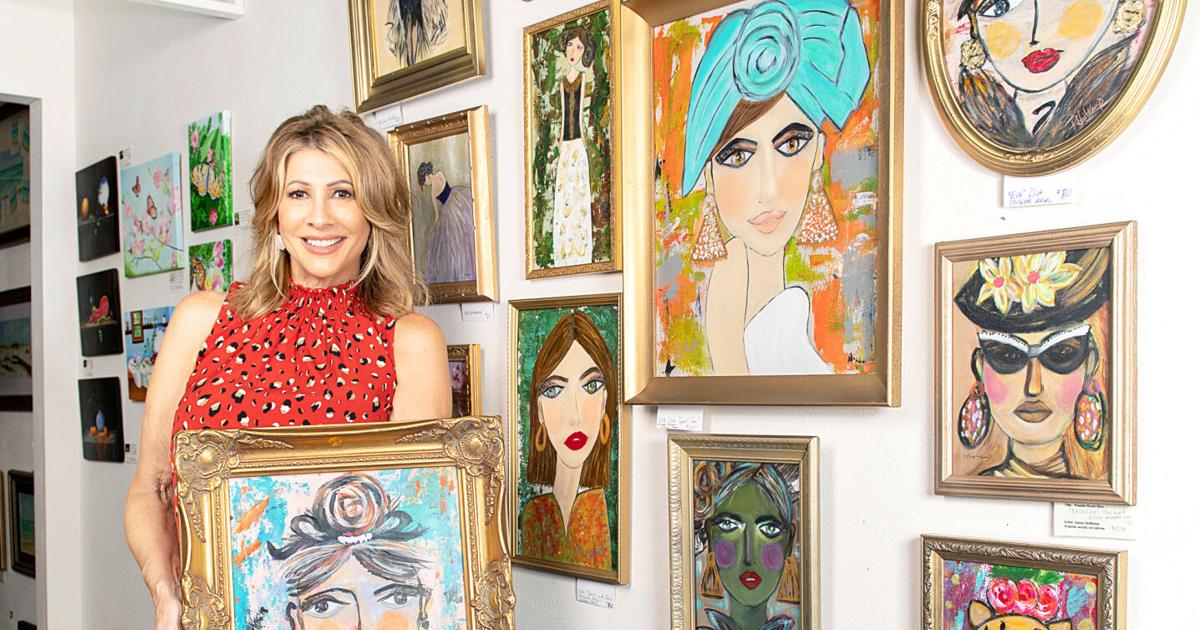 Divas By Design: An Aspiring Artist Finds Her Passion By Bringing Her "Funky" Art To Life | People Features
Karen Heitkamp is no longer paralyzed with fear when presented with a blank canvas.
"The biggest fear in the world was putting my paintbrush on the canvas for the first time. Fear paralyzes people, including myself. I was petrified (of painting) and making a mistake," Heitkamp said. , a 65-year-old retiree who began painting in April after taking a course given by Jane Sellier at the Room for Art gallery in Washington.
"It sounds weird to say, but there was something about (Sellier) and the way she taught, that it all clicked with me," said Heitkamp, ​​who worked for Maritz Travel as a marketing manager and as a beautician before her. retirement. Heitkamp, ​​who grew up in the Affton neighborhood, moved to Washington in January 2021 from Ste. Genevieve and her husband, Joe, downsized and "fell in love with Washington."
"Jane, she just inspired me and I've never painted in my life," Heitkamp said.
In fact, Heitkamp said she would never have thought of herself as an artist, preferring math in school to art.
JoAnn (Peters) McCoy, owner of art gallery Room for Art, said the gallery, which opened in 2021 at 124 W. Main St., offers regular art classes that regularly attract artists and "non-artists" like Heitkamp. Current course topics range from basket weaving and watercolor painting to shaping clay and acrylic painting. To find out how to register for upcoming courses, visit the gallery.
McCoy said she encourages anyone with a slight curiosity in art to enroll in a class.
"You will only know if you try. I recommend people take different classes, and you'll find that niche really brings you joy," said McCoy, who is the daughter of famed Washington artist Jim Peters.
Heitkamp said that since taking the class, she's now "hooked" on creating her unique art style.
"Since then, I've just painted, painted, and painted some more," said Heitkamp, ​​who has estimated that she typically paints between four and five hours a day, sometimes painting until the wee hours of the morning.
"Sometimes I even forget to eat, because I'm so focused (on painting)," said Heitkamp, ​​who sold his first paintings earlier this year at Washington Gallery and Labadie Station. These early paintings depicted farm life, particularly cattle and other animals.
In July, Heitkamp said she was inspired to try something new.
"I enjoyed that, but I started to think there was something missing," Heitkamp said. "The more I thought about it, the more I realized that the art of breeding was not something I was passionate about or would really appeal to a younger generation."
Combining her passion for fashion and beauty with her desire to create art that would appeal to young art lovers, Heitkamp said she launched her "divas" series.
"Young people today use their cell phones for everything and every time they're on their phone they're hit with pop culture defining images, like the Kardashians," Heitkamp said, referring to the Los Angeles-based family – sisters Kourtney, Kim and Khloe and half-sisters Kendall and Kylie as well as her mother, Kris, became reality TV stars with their shows 'Keeping Up With The Kardashians' and 'The Kardashians".
"When they see the Kardashians, they see the big lips, the makeup, the fashion, the bright colors," Heitkamp said. "I wanted to try and create something that would resonate with them, especially young women, that would reflect that style and also be a conversation piece in their home."
While her budding career as an artist continues to surprise her, Heitkamp said it doesn't surprise her that she's drawn to creating art involving facial features given her previous career.
"As a beautician, you look at faces and eyebrows all day, so as an artist I always try to get the dimensions of their eyes and eyebrows right," Heitkamp said.
"It's great to see the enthusiasm of a young artist who's just getting started but has found that niche," said McCoy, who has seen her gallery grow from 15 artists at the start to 50 artists today.
Heitkamp echoed that sentiment, saying she feels she's found a niche within the Midwestern arts community.
"I really believe there's not a lot of art that's really cool, not mass-produced, that appeals to young people," Heitkamp said. "I think young people today crave something unique, cool, funky, and it's not something their grandparents or their parents would have hung on the wall. … Young people today don't collect or see things the way older people do.
The woman depicted in Heitkamp's paintings may seem familiar to art lovers of all ages.
"Frida Kahlo definitely comes through," Heitkamp said, referring to the famous Mexican artist, who rose to prominence in the 1970s after her death in 1954. Today, she is considered the one of the great Mexican artists, with his works declared by the Mexican. government in 1984 as "part of the national cultural heritage" and banned them from leaving the country.
Kahlo regularly depicted herself in self-portraits, wearing bright colors, bold jewelry, or flowers herself.
"She was this rebel, politically, artistically. He's someone who definitely caught my eye," Heitkamp said. Since the diva series launched in June, Heitkamp said it's been selling them out at near lightning speed.
"Since August 1, I have sold 17 paintings. I'm blown away by it," Heitkamp said. Depending on the size of the painting and frame, Heitkamp sells them for between $70 and $180.
She hopes buyers and admirers of the artwork will leave them the courage to "be quirky, be funky, do something out of the box and be an original."
Besides selling the paintings to Room for Art gallery, she also posts pictures of her paintings on Instagram, "AcrylicPaintingsbyKK".
Heitkamp said she creates her art from the basement of her Washington townhouse, which she has converted into an art studio.
"Sometimes I'll just stand and paint. …sometimes for a few hours, sometimes much longer," Heitkamp said. She said her painting sessions are often also filled with music, which she says helps transform her environment from a basement to an art studio.
"Music really helps spark (my creativity)," Heitkamp said. "My husband collects jukeboxes so I will always have music and the color of the jukebox is really cool."
Her musical tastes range from the Grateful Dead, which she says represents music from her childhood, to musical selections from 88.1, a St. Louis-area station that Heitkamp describes as musical exploration. She is also always accompanied by the family dog, Scout, who from her chair watches her transfigure the white canvas into a colorful work of art she calls the diva paintings.
The diva paintings — powder room divas, glam divas and spa divas — will soon be joined by "divas in training," a planned series that will depict a young teenage girl. The paintings vary in size from 11×14 canvases to 16×20 canvases. Together, the diva paintings are representative of figurative art, meaning the subject matter is recognizable from the real world.
Each painting is associated with a vintage or antique frame.
"I spend a lot of time marrying the two (canvas and frame) together," Heitkamp said. She and her husband, who have been married for 16 years, regularly scavenge the aisles of local thrift stores and antique shops for vintage picture frames.
"What can I say, it's the thrill of the hunt for me," Heitkamp said. If she finds a frame that doesn't quite fit the size of her canvas, she said Joe would use his carpentry skills to cut the frame and rebuild it to fit.
"What I like about the old frames is the detail, the character they have," Heitkamp said. "It's not that mass-produced trash you see in stores today."
For someone new to her craft, Heitkamp said she had to recognize that her art may not appeal to everyone.
"I'm definitely stepping out of my comfort zone, and there's this fear of people laughing at you," said Heitkamp, ​​who said she's no longer paralyzed by the fear of a blank canvas. . "After all, I only started painting in April, but I think everyone faces these fears, no matter what you do for a living."
She said she would encourage others to enroll in art classes or something else that interests them.
"Do the thing that scares you," Heitkamp said. "Don't let fear hold you back from life or a great adventure."
The Missourian's Madyson Dixon also contributed to this report.