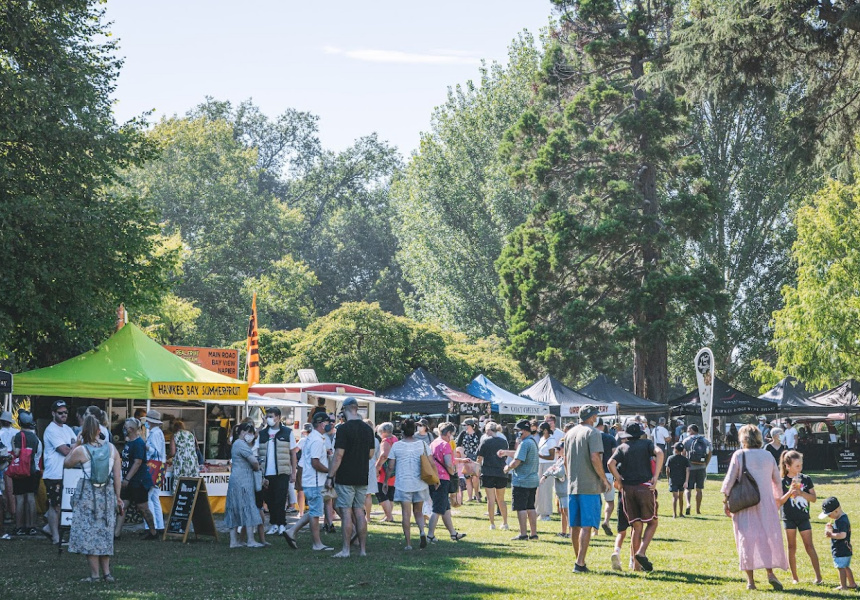 A Guide to New Zealand's Best Farmers Markets
Aotearoa New Zealand is a haven of organic fruit and vegetables, artisan cheeses, ethically raised cattle, venison and poultry, and passionate, down-to-earth producers who love nothing more than you. welcome into their world. From Auckland to Dunedin, you can easily plan a trip through Tasmania as you hop from one farmer's market to the next. Here are some of the best in the country.
Clevedon Village Farmer's Market, Auckland
Auckland has fantastic nightlife, but it's worth spending the night before a visit to the Clevedon Village Farmer's Market, as you'll want to get there early. It's a case of "you sleep, you lose" when it comes to the freshest produce at Auckland's most authentic farm market, which opens at 8am sharp every Sunday at the Clevedon Showgrounds, half a hour drive southeast of the city.
More than 60 vendors line the fairgrounds, selling everything from seasonal fruits and vegetables, shellfish and pickles to small produce, flowers and wine. The market has long been an incubator for growers who will become supermarket staples, and it remains a barometer for the region's top farmers. Each exhibitor cultivates everything he sells, without intermediaries, which makes it a real experience from the paddock to the plate.
Large format access members get special tables at popular restaurants, tickets to exclusive events, and discounts on food, coffee, branded deals and more.
Learn more
The rural setting is idyllic and instantly relaxing, which is well worth the effort. Skip breakfast and have it when you arrive, with your pastry, muffin, or breakfast burrito straight from the source. And before you ask, yes there is coffee made by a barista and yes it is damn good.
Harbor Market, Wellington
As far as the city's markets go, it doesn't get more central than Wellington's Harborside Market, open every Sunday morning from 7.30am on Cable Street opposite Te Papa, just off the waterfront Town markets have been held at or near this location for over a century, and although the names have changed (it was once called Waitangi Park Market, then Chaffers Market) the ethos remains the same – to get produce fresh directly into the hands of consumers.
Browse food trucks and artisan producers—expect everything from homemade dumplings to small Bavarian produce—as well as traditional fruit and vegetable growers from across the Lower North Island. There are plenty of choices for breakfast and lunch and there are usually busking musicians as well, which contributes to a lively atmosphere. The market also has a food partnership program with Kaibosh Food Rescue, which distributes excess food from merchants to charities.
Hawke's Bay Farmers Market, Hastings
The Hawke's Bay region on the east coast of the North Island is a grower's paradise, producing not only world-class wines, but also orchards teeming with apples, nectarines, cherries, avocados, peaches and berries. The best-known market that features it is the Hawke's Bay Farmers' Market, held inside the Tomoana Showgrounds on the outskirts of Hastings, open from 8.30am every Sunday.
Arrive hungry and choose from breakfast options, which include homemade pies from Henry's Family Pies – made with local Angus beef and organic free-range chicken – and fresh breads and pastries from Yeast Coast Baking Co, served with of a Boost Espresso coffee.
Can't come on Sunday? Some of the same merchants appear a short drive down the highway in Napier on Saturday mornings at the Napier Urban Farmers Market.
Marlborough Farmers Market, Blenheim
There's very little you can't farm in the Marlborough region at the top of the South Island. The climate is mild, the soil is lush, and the growers are passionate about what they do. The fruits (and more) of their labor are on display every Sunday from 9am-noon at the A&P Showgrounds in Blenheim.
It's a very laid back atmosphere and the farmers take tremendous pride in the quality of their produce, with everything from free range eggs from Koromiko, specialty cheese from Cranky Goat, fresh meat, micro greens, traditional preserves , pizzas and fresh treats from local baker Minghettis. , breakfast options and freshly roasted coffee.
The fairgrounds provide a classic rural New Zealand setting for farmers' markets, and all produce is sold directly by farmers. It's a great opportunity to chat with them and find out where your produce comes from and the sustainable ethos that governs much of the farming practice around Marlborough.
Otago Farmers Market, Dunedin
Established in 2003, the Otago Farmers Market at Dunedin Station is famed for its size (with around 60 stalls) and caliber of vendors, with a strict quality assurance process undertaken to ensure only the very best producers are selected.
Vendors come from all over the Otago region to showcase everything from honey, cheese, fruits and vegetables, jams and pickles, to condiments, small produce and freshly caught seafood. Pick up pieces of free-range chicken from Dunedin Poultry and sample the South Island's largest range of organic produce at Oamaru Organics.
The market is full of characters and stories, so a visit also means an education in the changing dynamics of how we eat and how we can provide food in a way that is better for us and for the planet. The market is held every Saturday morning from 8 a.m. to 12:30 p.m.
This article is produced by Broadsheet in partnership with 100% Pure New Zealand.