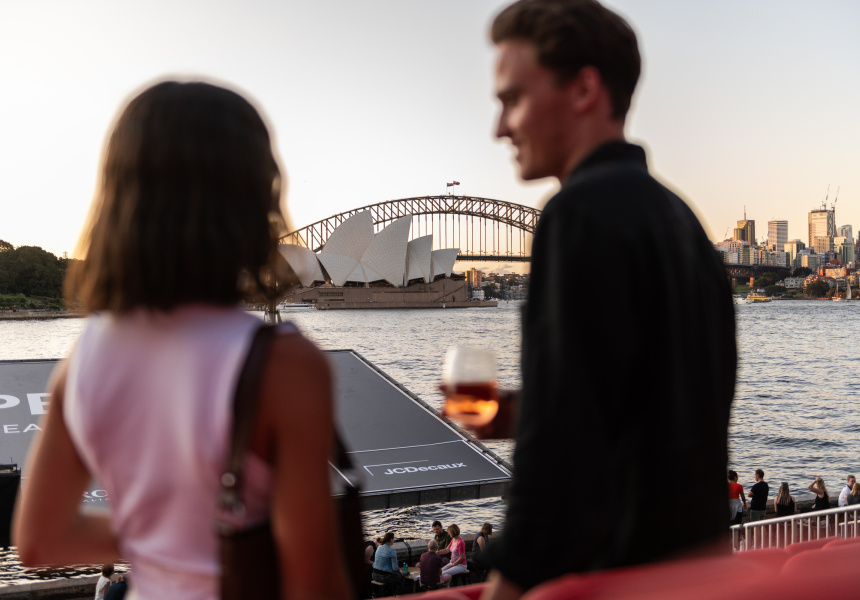 A Guide to Date Night at the Westpac OpenAir Cinema
A dinner and a movie is an easy alternative when it comes to planning a date. What if the film was accompanied by a pre-film cocktail? And the dinner was cooked in a pop-up by a local chef? And the movie theater literally overlooked the most iconic harbor in the world?
From now until February 22, Westpac OpenAir Cinema is transforming Mrs Macquaries Point in the Royal Botanic Garden into a massive outdoor cinematic experience – complete with a three-story cinema screen and delicious alfresco dining.
Add local wines, beers and cocktails and an FBi Radio DJ roster, and you have Sydney's best food and culture at your feet.
Here are some tips to perfect your evening.
Take your time choosing a movie
Picking the right movie is key to any cinema visit, so it helps to know your date's personal preferences. If you love watching world-class authors at work, there's Paul Thomas Anderson's coming-of-age thread. Licorice Pizza (with Alana Haim in her film debut), Wes Anderson's dependable and eccentric anthology The French Dispatch or Mike Mills go! Go on. Foreign moviegoers will enjoy Pedro Almodovar's layered Spanish comedy-drama Parallel mothers. Or if you just want to be swept through the streets of New York with high-level song and dance, head to Steven Spielberg's update on lasting musical romance. West Side Story. If ambitious sci-fi settings are a plus, you've got the sandswept epic Dunes and the gloriously meta The Matrix Resurrections. For pure action there is no beat no time to die, Daniel Craig's final outing as James Bond.
Arrive early
You don't have to wait for the sun to go down and the movie to start heading to Fleet Steps. Before the screening every night, top local DJs straight from FBi Radio will set the mood, and of course the scenery is not left out: settle in for a panoramic view of the Harbor Bridge and the skyline from Sydney. Every little cozy vibe counts when you're on a date, so don't rush it. Arrive early to absorb it all.
Make it a meal
The outdoor dining experience is half the appeal of OpenAir, so be sure to select the dining package when you book your tickets. Sydney chef Mike McEnearney will serve signature Kitchen By Mike fare in the Heineken Green dining room, with mains including roast free-range chicken, ash-baked eggplant and grilled Rangers Valley flank steak, with fresh salads and sides. And if you arrive before 7 p.m., a free Heineken is offered to you on arrival.
McEnearney also dabbles in a bespoke taqueria on The Point dubbed Mexican by Mike, a playful reimagining that includes pork, chicken, Yucatan-style mackerel or zucchini flower tacos. Have grilled corn with lime-chili salt or chipotle mayonnaise and cheese, or mix it up with stacked corn chips. There's even a cheese basket or dark chocolate mousse with caramel and malt cream to accompany the Mexican spices. Again, enter before 7 p.m. and you'll get a free cocktail (or mocktail).
If you really want to impress your date, opt for the VIP option in The Croser Lounge, McEnearney's full-service restaurant showcasing local summer produce. Dinner includes assorted sharing plates and a set menu to remember, with indulgent desserts like Thin Apricot Tart with Vanilla Ice Cream and Pecora Jamberoo Mountain Blue Sheep's Milk Cheese with Live Honeycomb.
Have a drink before the movie
Whatever your beverage preference, you'll be well covered. Partner brands like Hendrick's, Glenfiddich and Fever-Tree will whip up summery cocktails and pure spirits, Petaluma and Croser sort local wines and Heineken covers all the bases on the beer front. And for something lighter, Lyre's will serve mocktails that will get you home safe after the movie.
This article is produced by Broadsheet in partnership with Westpac OpenAir Cinema.