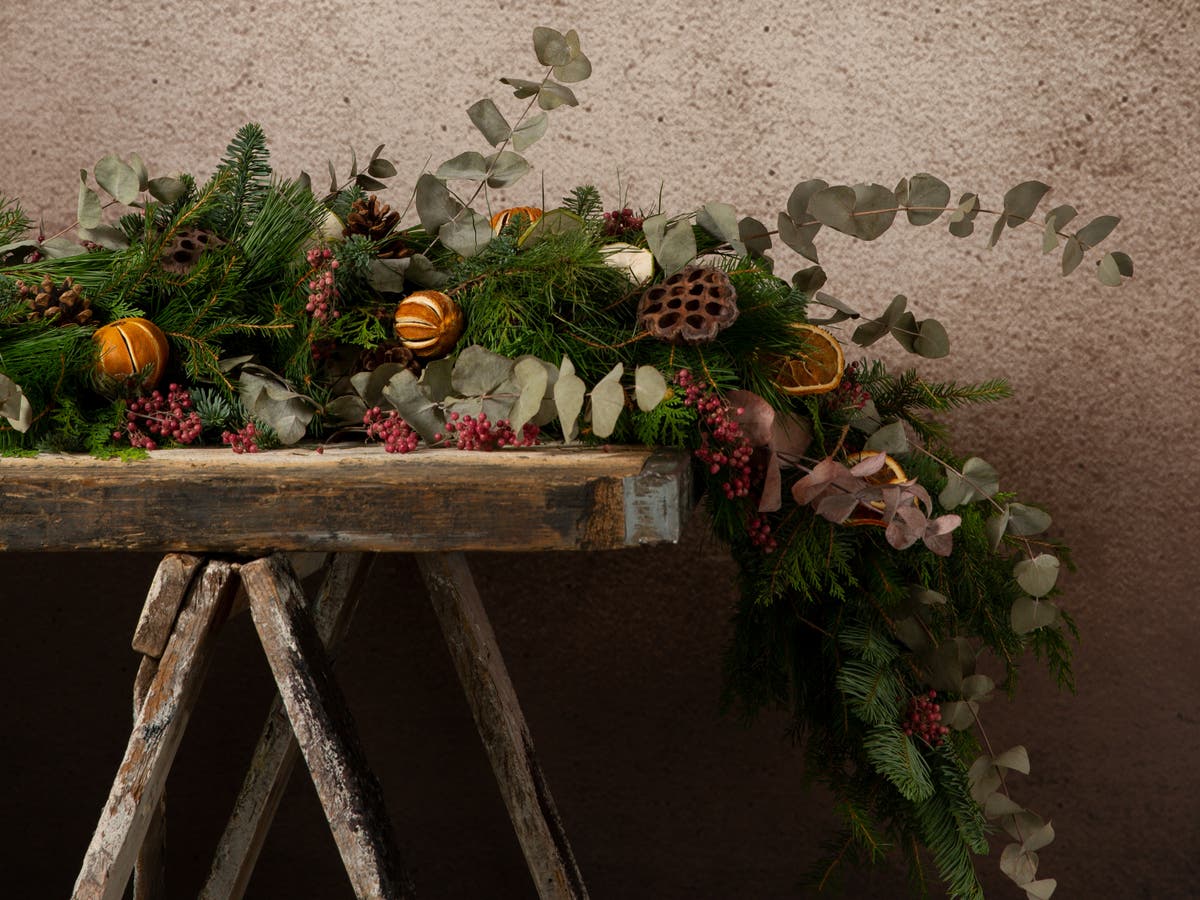 A guide to a refreshing and refined Christmas decoration
Jhe holiday season is fast approaching. The aroma of orange peel, spicy cloves and balsam fir creates a cheerful atmosphere in just one puff. Soon the soft mittens will kiss cold fingers and the twinkling starlights above London's Oxford Street will shine. Cue Michael Buble Christmas album and pour yourself a cup of frothy hot chocolate because it's time to think about decorating the hallways.
Perhaps it conjures up visions of metallic garlands, kitsch balls and all things red and green. But Christmas decor doesn't have to be brash. If you love sleek, streamlined interiors, look no further. This week, I spoke to four design experts about how to achieve refreshing and sophisticated Christmas decor.
"Start by focusing on using foliage, dried fruit and berries to bring spaces to life," says Camilla Clarke, creative director of London-based residential interior design studio Albion Nord. "Fresh holly and spruce are lovely hidden behind artwork and in garlands draped over banisters, sideboards and fireplace surrounds."
Albion Nord's expanding portfolio is defined by an appreciation for natural materials – from polished marbles with their uniquely textured surfaces to woods that speak through their inimitable grains. Clarke's Christmas decorating philosophy echoes this. She recommends drying cut oranges and apples and stringing them on wire or twine to create an organic garland that looks especially pretty when sunlight shines through the slices.
As you lay your table, channel the snow that gently settles on the rooftops like powdered sugar by coating the surface with an understated blend of whites and creams. Clarke advises, "plain white or off-white linens contrasting with a festive bouquet, white candlesticks, and brass or silver place settings are all you need" to create a visual feast.
Joyful and bright occasions are synonymous with clinking of glasses. For a touch of refined sparkle on your party table, consider LSA's mouth-blown Pearl champagne flutes, saucers and wine glasses. Hand painted with an iridescent pink luster and shaped with a subtly fluted texture that fades towards the edge, I can't help but imagine them shimmering prettily on a brass bar cart outfitted with a garland of greenery . The Pearl collection ranges from stemmed goblets to a cake stand and dome, tealight holders and vases, allowing you to establish a cohesive Christmas glassware scheme.
Ronny Colbie, luxury floral designer and former chief florist for the Soho House group, told me how to create a beautiful winter centerpiece. He says, "a source forage or foliage that will last the whole season as the basis of all your bouquets. English pine, holly, twigs and winter eucalyptus – anything that dries well and adds a festive scent. Once you have the foliage base, you can simply add flowers as you see fit and change them as they fade. For long-lasting blooms, it is better to use amaryllis, hydrangea or winter berries. Pair ruby ​​red hydrangeas with pink Christmas hellebores and holly or deep pimpernel hydrangeas with white speedwell and fodder branches. As a finishing touch, consider tying a plush emerald or cream colored bow around the vase.
Tapered, twisted candlesticks have flooded social media feeds in 2022. As they continue to add brilliant intrigue to tabletops, Peter Erlandsson, co-owner of String Furniture, encourages us to consider their load-bearing counterparts this Christmas. "Adjustable candle holders have a long tradition in Scandinavia. It's a simple and ingenious way to hold the flame in the preferred position," he says, explaining that the String Museum Candle Holder, available in dark brown, olive green and white, is height adjustable, allowing the candlesticks to stand upright when guests arrive, adding visual interest to a festive tablescape. Then, when you sit down to feast on Christmas turkey and pudding, the candles can be lowered so they don't obstruct your view of each other.
Other ways to decorate with Scandi simplicity this Christmas include embracing the concept of 'hygge' – a Danish and Norwegian term that describes an ambience of comfort and 'comfortable togetherness' characterized by feelings of well-being and satisfaction. Drape an oatmeal or sage mohair or cashmere blanket over the back of your sofa. And in the bedroom, ward off the chill with a hand-knit waffle or chunky throw at the foot of your bed.
Finally, a cheery fireplace is a decorative focal point. Adorn this architectural feature with garlands of greenery, fairy lights and candles. Owen Pacey, founder of leading fireplace specialist Renaissance London, says: "A fireplace garland can be interspersed with seasonal flowers, leaves and berries. Fragrant dried orange slices, pine cones and cinnamon sticks create a Christmas scent". Tailor-made to complement your mantel, Ronny Colbie makes fresh, handmade garlands with each of these elements in his London studio. Additionally, Pacy recommends "positioning candles of varying heights in your fireplace basket to create a warm and cozy ambiance."
Instead of draping your fireplace in a garland, consider an array of bouquets in containers of varying heights, a series of elegant scented candles in beautiful jars, or an array of hand-picked pine cones interspersed with glass balls of good taste.
Let's not forget the stockings that hang below, ready to be filled with treats and small toys. Instead of bright colors, focus on texture. Anthropologie's pom-pom fodder stockings feature intricately embroidered woodland creatures. Or for minimalist enthusiasts, consider a cream chunky wool knit bottom or one dotted with hand-knitted pom poms. Who said stockings only belong on the fireplace? These would look lovely lining a staircase or strung from the top of a window frame, too.