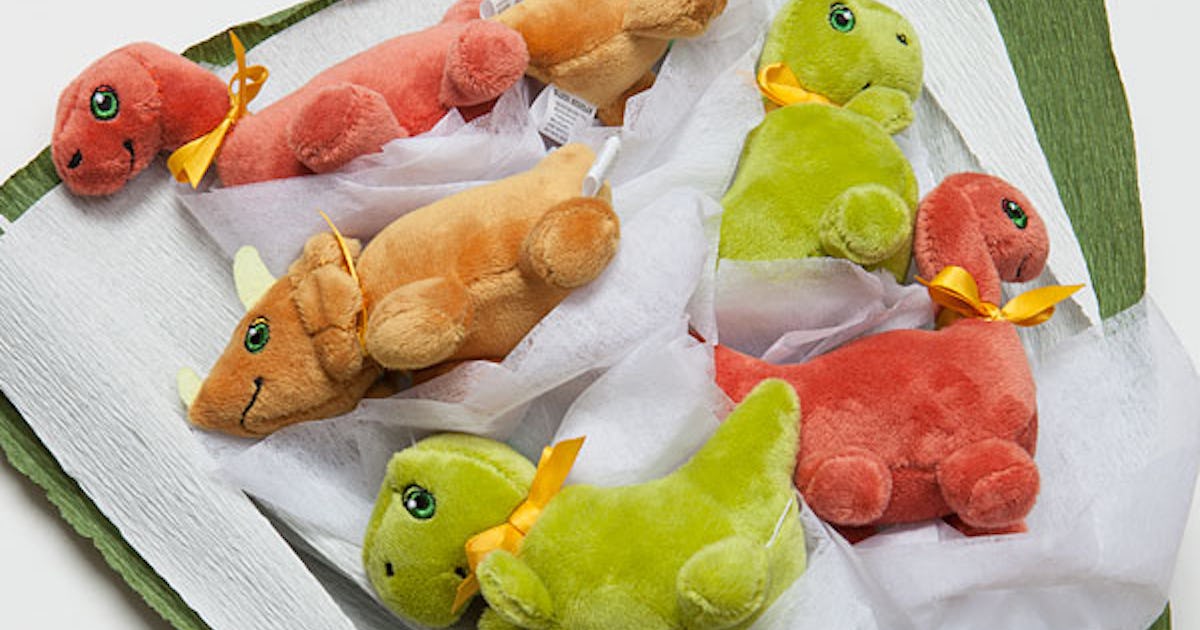 5 nerdy flower bouquets alternatives for Valentine's Day 2016
T. Rexes are brown, Triceratops are green, flowers are dying and you are my nerd queen. The folks at ThinkGeek are rocking Valentine's Day with their wacky and precious dinosaur-themed bouquets – the perfect gift for your nerdy Valentine. Because let's face it, while flowers and chocolates can always be appreciated gifts, there isn't a lot of thought or creativity involved in purchasing them. And if you live in a city, it's literally impossible to walk down the street and avoid a discount flower stand. And within a week, that same arrangement will eventually wilt, dry out, and crumble on your Valentine's kitchen table just before she tossed it in the trash. sorry but w om, womp.
Hence the idea behind the dinosaur bouquet – it will never wilt or die like a flower, it won't turn into human waste like a box of chocolates, and it won't be disappointing in post-Valentine's group text. of your lover. "Oh wow you all have such beautiful flowers and boxes of chocolates … I hope the two presents make it through the week … like my dinosaur plush bouquet (which includes two T. Rexes, Triceratops and Apatosauruses), last forever and are totally devoid of any holiday clichés … "
But okay, if dinosaurs aren't your thing – which I imagine many might be – ThinkGeek still has you covered. These die-hard geeks have come up with just about every wacky, unique, and surprising combination of bouquets you can think of. Here are some of my favorites:
Kittens
Because, #kittens. This bouquet comes with nine widdle kittens in three different colors! Great value for your crazy cat friends or lovers.
Plush Kitten Bouquet, $ 50, ThinkGeek
Puppies
This bouquet has an eclectic group of puppy friends including two types of corgi / chihuahua, two types of chocolate lab / pit bull, and two types of bulldog / pug / boxer. It really covers a lot of ground within the breed community – one for everyone.
Plush Puppy Bouquet, $ 49, ThinkGeek
Star wars
The whole gang is there for this collection. Enjoy the cast of the set like you've never seen them before; tied to plastic rods and wrapped in a bouquet with a bow! This collection is a little more expensive than the others.
Star Wars Bouquet Assortment, $ 60, ThinkGeek
Unicorns
The perfect gift for your dreamer who sees the world through heart-shaped glasses and swears she has seen a unicorn on vacation with her family before – even if no one has seen her but her, she is sure she was there and certainly not just a horse. Show your Valentine that you believe with this special collection of 11 majestic unicorns.
Plush Unicorn Bouquet, $ 50, ThinkGeek
And for your viewing pleasure, enjoy a short video showcasing ThinkGeeks' whimsical bouquets using energetic piano playing:
Pictures: Think geek