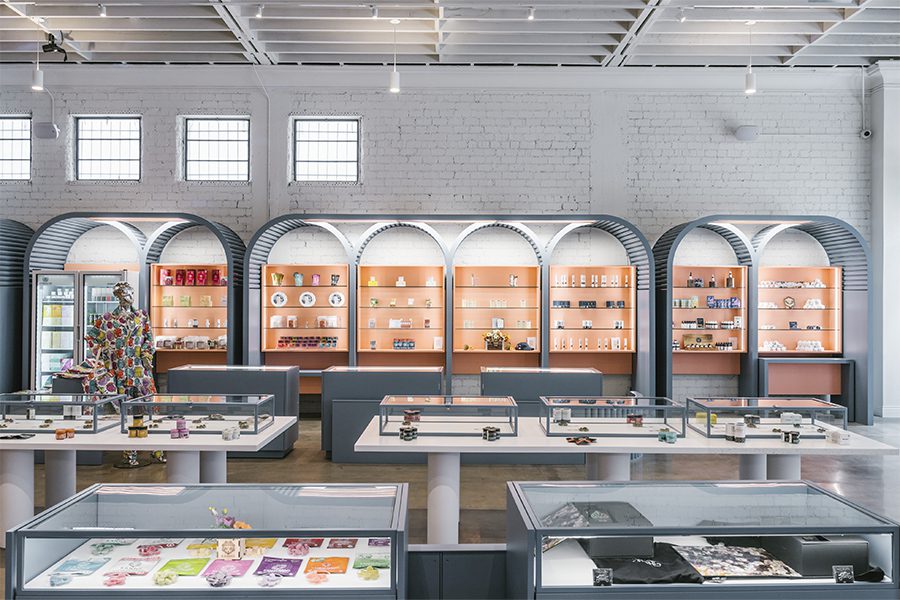 4 Cutting-Edge Cannabis Stores & Dispensaries
As North America's cannabis consumer landscape evolves, so do its temples. Inviting retail spaces and lounges reinterpret a residential sensibility to create a more accessible market, where equity is more vital than ever.
Newcomers like Rose Mary Jane, an upcoming cannabis retail and consumer experience in Oakland, Calif., will serve as a dedicated hub promoting black, brown and female ownership. Designed by Chicago firm Curioso, the store, lounge and garden will reinforce the brand's connection to the natural environment. "We see cannabis expanding nightlife culture in a different way," says Nina Grondin, Partner and Co-Founder. "It overlaps this space of leisure and well-being. There's this evolution of moving away from binge drinking and staying out late and merging a bit of pampering and wellness into our drinking culture.
Indeed, the marijuana trade is expected to add nearly $100 billion to the U.S. economy in 2022, rising to $155 billion by 2026, according to analysis by MJBiz Factbook. (MJBiz is a sister company to Hospitality Design.) Here we look at four concepts that are setting a new standard in forward-thinking design for a more inclusive industry.
Green QweenLos Angeles
Green Qween is causing a stir in downtown Los Angeles, reanimating a 1930s Art Deco structure into a vibrant yet sophisticated space dedicated to LGBTQ+ and BIPOC-owned cannabis brands. Described as "colorful, whimsical, fluid and playful", the retail location channels a spa day in the Emerald City with dimensional geometry and iridescent finishes accented by natural light and a grandiose disco ball embedded in a back wall. "[Green Qween founders Andrés Rigal and Taylor Bazley] wanted to strike the perfect balance between a tasteful celebration of the building's aesthetic heritage, the functionality required of a cannabis retail operation, and the elevated aesthetic of the local community that represents DTLA," says Randy Simmen, Head of of design for Woodbridge, Ontario- based on SevenPoint Interiors. "From the disco ball to the budtenders' aprons that match the color scheme, the design evokes a sense of welcome and light unlike any other dispensary in Los Angeles."
Refreshing hues of blue and apricot juxtapose display cases shaped by metal tubing and crisp white detailing. Each element is placed in a retro-futuristic setting that nods to the brand's queer roots. "We focused on playful color blocking and large-scale repetition of arches and fixtures to create an elevated store-to-store experience," adds Desmond Chan, Creative Director of Sevenpoint. "Although the rainbows don't cover any surface of the dispensary, the dichroic accents paint the space in a prism of light throughout the day."
Bud's Goods and ProvisionsWatertown, MA
Housed on the ground floor of a multi-family residential structure in Watertown, Massachusetts, Bud's Goods & Provisions is defined by accessibility. The space is designed by New York-based Brand Bureau (an AvroKO company) with a focus on education to de-stigmatize the cannabis landscape and present the storefront – and residences – in the most welcoming way possible. "Original New England" was a guiding framework for the project, which reimagines colonial homes in the area through materials such as reflective mirrors, whitewash paint, soapstone, stained wood and rhythmic slats.
"With cannabis in particular, it's a delicate balance of allowing the client to feel safe with familiarity references while providing opportunities for uniqueness," says Hilary Miners, design lead of the environment for Brand Bureau. "It brings an unexpected and elevated aesthetic to the cannabis typology."
Lined with white oak wood and charcoal soapstone, the pantry is reminiscent of a New England kitchen, with millwork and even a custom wood table stained the color of denim. The library revolves around a flower-bud table, echoing the materiality of the adjoining pantry while distinguishing itself with a cavernous ceiling fitted with whitewashed oak and an open slab that suspends geometric brass pendants. The checkout area, against a backdrop of stained glass windows, winks at the surrounding industrial buildings. "Bringing this domestic point of reference to both the design language and the experience allows the customer to feel a sense of comfort in incredibly foreign and pioneering territory," says Miners. "This juxtaposition of the recognizable with the unknown – through the lens of modernized residential craftsmanship – is what sets Bud's apart."
The Artist's Tree LoungeLos Angeles
The only cannabis consumption space in Los Angeles, the Artist Tree Lounge is home to more than just retail. From a shop on the ground floor to a recreation room hosting programs like yoga or comedy classes, the outpost is equipped to put visitors at ease. "We drew inspiration from the design of some of Amsterdam's original café concepts," says Kevin Klein of his eponymous company based in Los Angeles and South Florida. "European cafes have always had an inherent friendliness and comfort that made you feel like you were at a close friend's house."
Custom stained glass doors with the Artist Tree logo welcome guests into an elegant setting, reminiscent of a European apartment. Mobile walls are installed at the front of the living room, connecting it to an outdoor patio lined with banquettes on multicolored cement tiles. "We thought it was important that when you officially walk into the living room, you were interacting with something imaginative and whimsical," Klein adds. Large-format parquet floors cover the living room as well as vast floor-to-ceiling bookcases filled with literature, accessories and other possessions. Communal tables are paired with modern seating that promises maximum comfort to customers.
Similar to a sushi bar, the mid-century-inspired bar at the back of the lounge makes a stylish statement as guests mingle with edibles, waxes, THC or CBD-infused cocktails, or even shots. gravity bong. "There's simply no other place in town that can simultaneously serve you a joint, a cold brew, and a burger," Klein says. "The design is unique because the concept is literally unique."
Supermarket – The AnnexToronto
Touting a portfolio of nostalgic designs that reimagine the dispensary as a caricature of a supermarket, Superette has added its seventh location, known as the Annex, in Toronto. The latest iteration mirrors an Italian deli, with green and white checkered floors, fake autographed black and white photos of celebrities devouring pasta, and deli cases displaying cannabis products. "When creating Annex, the conversation focused on how we can take ideas and concepts that have worked for us in the past, but create a new thematic experience," says Allyson Young, visual designer and head of merchandising at Superette. "We don't use menus in this store. We want our customers to buy with their eyes.
An oil can is recycled and vinyl-wrapped to serve as a welcome stand, echoing the Superette-brand tomato cans that line the shelves and hang above the Bud Bar. Instead of signage, a wall of pre-rolled joints and a beverage fridge also enliven the colorful 500-square-foot interior, while accessories like pipes take on food shapes, from eggplants to ice cream cones. Seating is also set up at the front of the store under large red pendant lights that contrast with the pistachio hues of the walls and floors. The motif is even developing into a partnership with local Jewish grocery store Rose & Sons, which can be contacted by customers of the Annex via a red telephone connected exclusively to the neighborhood institution. "Each Superette store follows the same aesthetic of being a fun, nostalgic, and stigma-free environment," says Young. "We want our stores to feel familiar to customers by turning them into inviting spaces."
This article originally appeared in the October 2022 issue of HD.